I long for summer all year, especially in the winter. Boy, do Chili, spaghetti and soup taste great in October but by March, I'm tired of them.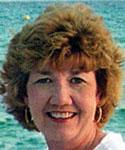 August days are beginning to get shorter. Children are back in school and on tight schedules. So what's for supper? I am looking for something different and a dish that will keep the kitchen cool.  
There's nothing better than summer in the South. However, it's not pleasant spending all day preparing meals, the kitchen just never cools down. Today's recipes will help make your meal easier and cooler. 
1 small package apricot gelatin 
1 small package peach gelatin 
One 20-ounce can crushed pineapple, crushed, undrained 
One 8-ounce carton whipped topping 
1 small can peaches , drained, cut in small pieces
1/2 cup chopped pecans, optional
Mix gelatins and pineapple together and boil until it thickens (about 3 minutes).
Refrigerate until cool but not gel stage.  
Combine buttermilk and whipped topping, add the gelatin mixture. Add chopped peaches and pecans, stir until blended.
Place in a 9-inch-by-13-inch dish, refrigerate for 2 hours or more.  
This easy recipe, ideal for picnic sandwiches or weekday lunch at the office, can be made in just 20 minutes, thanks to the convenience of store-bought rotisserie chicken.
The chicken salad mixture can be made a day ahead. Store in refrigerator until you are ready to assemble the sandwiches.
Pick up some baguettes at the store and spread on your favorite mayonnaise along with lettuce.  
Make your favorite chicken salad, however, for Caesar flavor, add garlic powder or fresh garlic to your mayo. Add 2 tablespoons Parmesan cheese to mayo, mix and use with your chicken salad mixture.
Serve these sandwiches with a fresh tomato slice on the plate.
Easy appetizers or snacks are summertime favorites, whether watching games on TV or going to a gathering. Taking meals to gatherings can often be done with the use of a crockpot. It uses little energy and doesn't heat up the kitchen. 
2 pounds sausage (1 pound hot sausage and 1 pound regular or mild sausage) 
1 large can evaporated milk   
1 pound mild Mexican cheese (pasteurized process cheese) 
1 pound hot Mexican cheese (pasteurized process cheese) 
1 large jar diced pimento, drained 
Cook sausage in skillet, drain. Mix all ingredients in crockpot, cook on low until melted. Serve with corn chips.  
One 3-ounce package instant chocolate fudge pudding 
1 quart rocky road ice cream or coffee ice cream 
2 tablespoons peanut butter
Mix with other ingredients and pour into graham cracker crust.
Refreeze for at least 3 hours.  
Note: Fat-free or sugar-free ingredients in this recipe can easily be substituted to accommodate special diets.  
MARY KATE RIDGEWAY, a retired Extension leader, is a freelance home economist and educator.