You ever get the craving for take-out?
We have some easy to follow Asian-inspired recipes to satisfy your hungry belly. From a warm, slurpy noodle soup to crispy air fryer egg rolls, these recipes are fun to make at home.
TERI STEPHENS shares delicious homemade recipes from her local food blog, Buy This Cook That (www.buythiscookthat.com), based in Big Sandy.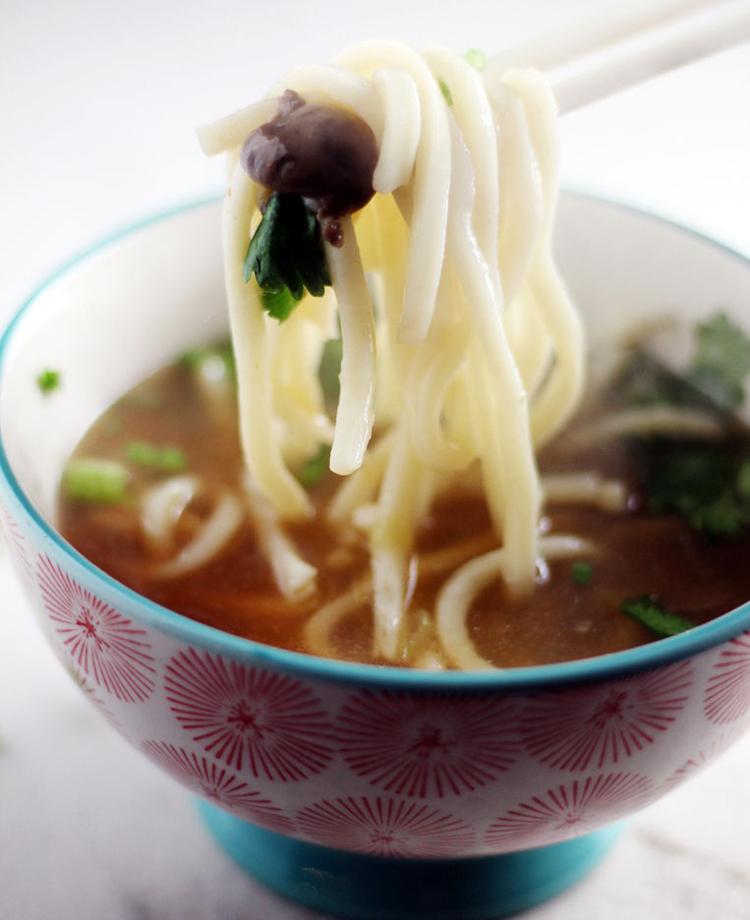 If you are looking for a savory Asian-inspired soup bursting with ginger and satisfying noodles, you have to try our Udon Noodle Ginger Soup. This soup was a total hit with my family. (Pretty sure their favorite part was the noodles.) This warming soup is easy to make and full of hearty mushrooms, fresh grated ginger, garlic scallions and more.
1 tablespoon vegetable oil
3 green onions thinly sliced, white parts and green parts separated
1-1/2 inch piece fresh ginger peeled and grated
1/2 tablespoon minced garlic
Pinch crushed red pepper flakes
3 cups sliced mushrooms any
2 tablespoons rice wine vinegar
15 ounces cooked Udon or soba noodles
Sriracha sauce for garnish
Fresh cilantro for garnish
In a large sauce pan or pot, heat vegetable oil on medium high. Stir in - grated ginger, garlic, white part of the onions and red pepper flakes. Cook and stir 3-5 minutes until garlic is golden and the ginger is aromatic. 
Add fresh sliced mushrooms and stir. Pour chicken broth over the top, stir in the rice wine vinegar. Bring to a low boil and add udon noodles. Boil for 2 minutes. Reduce heat to simmer. Season with soy sauce as desired.
Serve hot and garnish with Sriracha and fresh cilantro as desired.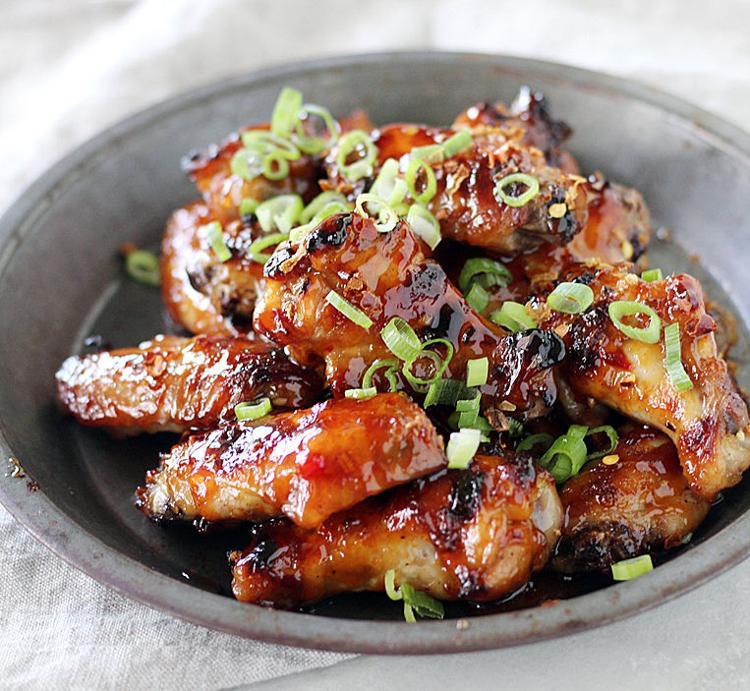 Thai Sticky Chicken Wings
Sweet plus savory. Spicy plus tangy. Tender and amazing. These addictive Thai Sticky Chicken Wings have it all. Made from pantry ingredients at home, you'll be eating these delicious wings all the time.
3  pounds chicken wings cut, trimmed
4 tablespoons rice wine vinegar
1 tablespoon hoisin sauce
3 cloves garlic very finely minced
3/4 teaspoon ginger powder
Red pepper flakes optional
Preheat oven to 400°F. Place a wire rack on top of a rimmed baking sheet, set aside. Cut and trim chicken wings, rinse and pat dry with paper towels. Sprinkle lightly on both sides with salt and pepper.
In a measuring glass or bowl, combine chili sauce, soy sauce, rice wine vinegar, honey, hoisin sauce, garlic and ginger powder. Whisk with a fork to combine well.
Pour half of the prepared sauce over chicken wings in a bowl. Toss to coat well.
Place wings on the wire rack. Bake for 15 minutes. While wings are baking, heat remaining sauce in a small sauce pan. Bring to a boil, reduce to a low boil. Cook 10 minutes until sauce has thickened.
Remove wings from oven. Flip wings and brush with sauce. Return to oven, bake another 15 minutes. Turn broiler on. Flip wings, baste with more sauce, broil 1-2 minutes.
Repeat the process two-three more times, basting, broiling and flipping until wings are well coated and sticky with sauce. Serve with fresh chopped green onions and red pepper flakes.
Better Than Take Out Asian Sticky Chicken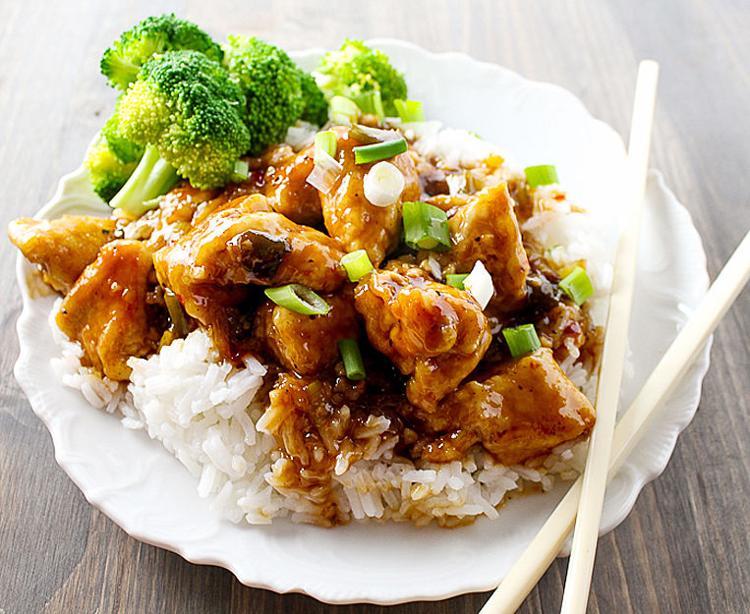 Better than take out (and probably better for you), this recipe for Asian-inspired sticky chicken is a tasty twist on weeknight dinner.
4 chicken breasts boneless, skinless
1 cup bottled Thai chili wing sauce
3-4 tablespoons vegetable oil for cooking chicken
2 tablespoons hoisin sauce
1 tablespoon minced garlic
1/2 teaspoon black pepper
Cut chicken into bite-sized pieces.
In a large bowl, toss chicken with cornstarch until all pieces are well coated. Heat 1 tablespoon oil in a large skillet or wok on medium high. When oil starts to shimmer, quickly cook chicken in batches until golden brown. Set cooked pieces aside. Add more oil to pan after each batch, repeat until all chicken is cooked.
In a medium bowl, combine chili sauce, hoisin sauce, soy sauce, garlic, ginger, pepper and water. Whisk until well combined. Reduce heat to medium and return chicken to skillet. Pour sauce over the chicken. Cook to heat through, then reduce to low and simmer 10-15 minutes until chicken is tender and sauce has thickened.
Stir in green onions, cook additional 5 minutes. Serve hot over cooked rice with steamed vegetables.
An easy to follow recipe of how to make homemade egg rolls in your air fryer. This recipe features a golden, crisp outside with savory filling on the inside.
1-1/2 pounds ground pork (not sausage)
2 teaspoons ginger fresh, grated
2 cloves garlic finely minced
1/2 teaspoon Chinese 5 spice
1/2 teaspoon white granulated sugar
3 cups cabbage shredded or finely chopped
Water for sealing wrappers
2-3 tablespoons vegetable oil for brushing the basket and lightly brushing egg rolls
In a non-stick skillet, cook pork with ginger and garlic on medium until lightly brown and no longer pink. Drain, return to skillet. Stir together soy sauce, sesame oil, sugar, 5 spice, and salt in a small bowl. Pour over the prepared pork and stir.
Add the chopped cabbage, shredded carrots, and chopped green onions to the skillet. Toss and stir to combine well. Cook and stir the egg roll filling until the cabbage has wilted, about 5 minutes. Remove from heat and let cool for a few minutes.
Place roll wrappers under a damp towel. To assemble (see pictures), lay a wrapper in front of you so a corner points toward you like a diamond. With your finger or a brush, wet edges of the wrapper with water (1). Brush the top corner about an inch with water (2) because this is the sealing edge and will help keep the egg roll closed.
Scoop 3 heaping tablespoons in the center of wrapper (3). Fold bottom corner up over the filling (4). Bring the left and right corners to the center, pressing gently and tucking in (5). Roll the egg roll away from you, folding it on itself, and place it seam side down on a lightly oiled non-stick surface (6).
Repeat until all of the wrappers and filling have been used. Lightly brush or spray the basket of the air fryer with oil. Brush a very small amount of oil on both sides of the egg rolls.
Place prepared egg rolls seam side down in the basket in a single layer so they are not touching. We were able to cook three-four at a time, working in batches.
Close the air fryer and set temperature to 390°F. Cook 6 minutes, turn carefully with tongs, cook another 6 minutes until golden and crisp.
Transfer cooked egg rolls to newspaper or brown paper bags to drain off any excess oil. Continue to cook, working in batches, until the egg rolls are done.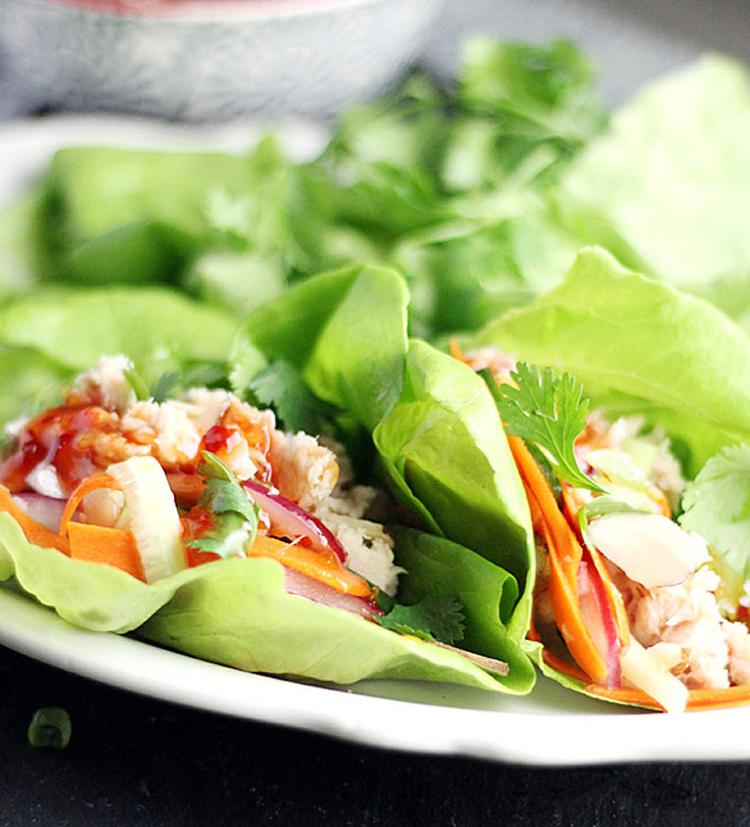 with Spicy Ginger Carrot Cucumber Pickle
Easy and delicious with pops of flavor, this healthy recipe for Thai inspired tuna and lettuce wraps are perfect for lunch.
9 ounces white albacore tuna
1 head of butter or bibb lettuce
1 medium cucumber partially peeled, seeded and sliced into thin strips
2 medium carrots peeled and sliced into thin strips
1/2 small red onion thinly sliced
7 tablespoons white sugar
2 tablespoons ginger fresh grated or paste
1 teaspoon red pepper flakes
Sweet Thai chili sauce optional
In a bowl, layer sliced cucumbers, carrots and red onion.
In a separate bowl, stir together vinegar, water, sugar, ginger, salt and red pepper flakes. Microwave 30-45 seconds until warm, stir to dissolve sugar. Pour vinegar and ginger mixture over sliced vegetables. Seal and shake to combine. Refrigerate at least 30 minutes before serving.
Make the wrap: Place desired amount of tuna on top of a leaf of lettuce. Top with ginger carrot and cucumber pickle mix, a drizzle of Thai chili sauce, cilantro, green onions and almonds.
Serves four. The number of lettuce wraps depends on size of lettuce, amount of tuna used, etc. Use more tuna as needed.