Don't you absolutely adore this time of year?
The weather is nice and cool (hopefully), the leaves are burning with color and swirling all around.
And can we talk about the food of the season? Delicious treats for Halloween, warm lattes and yummy soups. 
My fave? Pumpkin everything! We're not stopping at pumpkin spice, y'all.
TERI STEPHENS shares delicious homemade recipes from her local food blog, Buy This Cook That (www.buythiscookthat.com), based in Big Sandy. 
Sugar and Spice Roasted Pumpkin Seeds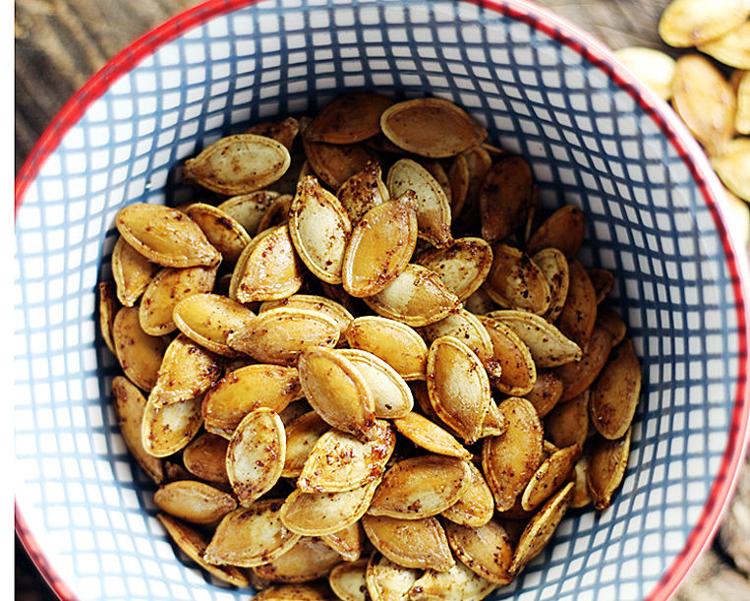 Sugar and Spiced Roasted Pumpkin Seeds are the perfect fall snack. And besides just a little bit of buttery goodness, they are good for you.
With a little bit of sugar and a little bit of spice, these crunchy and wholesome roasted pumpkin seeds are so addictive. 
2 cups whole raw pumpkin seeds
1/4 teaspoon cayenne pepper (more to taste)
1/8 teaspoon ground allspice
Heat oven to 300°F. Melt butter in microwave until smooth. Stir in the sugar, salt and spices. In a bowl, pour the butter and spice mixture over the pumpkin seeds. Toss to coat well.
Spread buttered pumpkin seeds in an even layer on a baking sheet. Bake 45 minutes, stirring every 5-10 minutes to ensure even roasting. Sprinkle with additional sugar and salt while warm if desired.
Pumpkin Spice Breakfast Muffins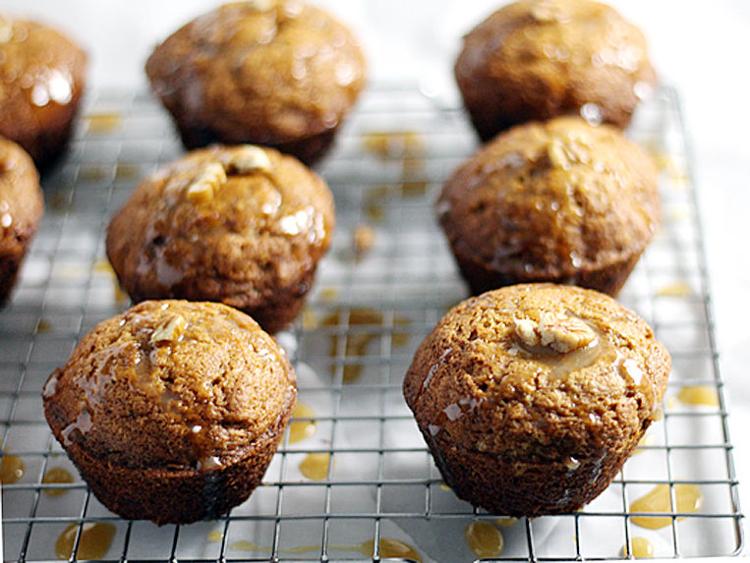 These pumpkin muffins are tender and perfectly sweet. Our secret? We used pumpkin pie mix. Yep, we stirred it right in the batter.
Hearty enough for a quick breakfast and sweet enough for dessert, these will be your new favorite muffin. 
2 cups pumpkin pie filling
1/2 teaspoon baking powder
1/2 teaspoon orange extract
1/2 teaspoon ground allspice
1/2 teaspoon ground ginger
1/4 cup caramel sauce (jarred is fine)
Preheat oven to 350°F. Grease a muffin tin (or use paper liners) and set aside. In a large bowl, combine flour, brown sugar, white sugar, baking soda, salt, baking powder and all of the spices. Whisk to combine well.
In a separate bowl, whisk together pumpkin pie mix, eggs, vegetable oil, orange extract and lemon juice. Stir in pecans. Add the dry mix into the wet mix.
Using a spoon, stir the muffin batter until just combined (do not over mix). Let rest 5 minutes.
Fill each muffin tin 2/3 full with batter. Bake for 18 minutes or until a toothpick inserted in the center of a muffin comes out clean.
Remove pan from oven and let rest on a wire rack for 5 minutes. Carefully remove the muffins from the pan and cool on a wire rack.
For optional glaze, heat caramel sauce and 1/4 cup of butter in microwave. (Heat in increments, stirring until smooth and of desired consistency.) Drizzle over warm muffins.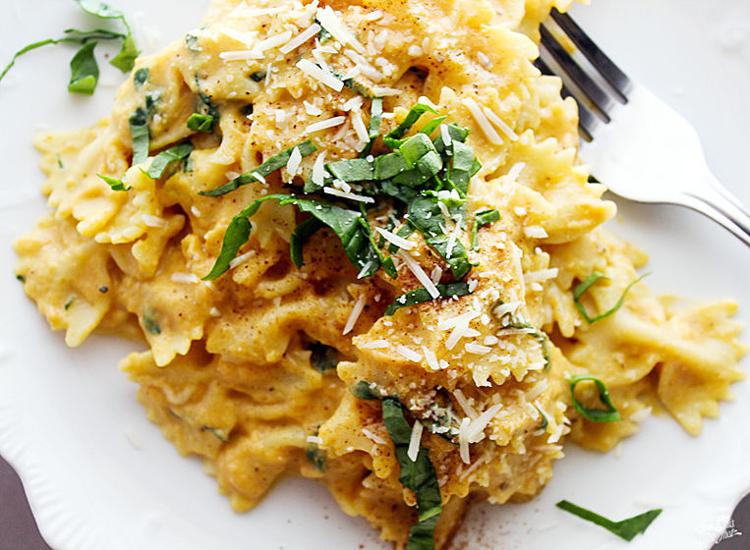 Guys, this recipe is fantastic! Creamy, savory, and pumpkin-y. Seriously, my kids loved it. My husband loved it.
To me, getting the family seal of approval is the ultimate compliment — the big test. 
One 15-ounce can pumpkin (regular pumpkin, not pie filling)
One 1-pound box bowtie pasta
1-3/4 cups milk (2% or whole)
4 tablespoons salted butter
1/2 cup shredded Parmesan cheese plus additional for serving
1/2 cup fresh baby spinach sliced into strips
1/4 cup reserved pasta cooking water
1/2 teaspoon black pepper
1/4 teaspoon garlic powder
Cook pasta per package directions with 1/2 teaspoon of the salt. Cook to al dente. Drain and set aside.
In a large skillet, melt the butter over medium heat. Stir in the pumpkin, pasta water, nutmeg, remaining salt, pepper and garlic powder. Gradually stir in the milk.
Add lemon juice, reduce heat to low and simmer 5-10 minutes. Stir in Parmesan and spinach, stir frequently until cheese is melted. Stir in prepared pasta, remove from heat and serve with additional Parmesan.
Halloween Chili Cheese Dip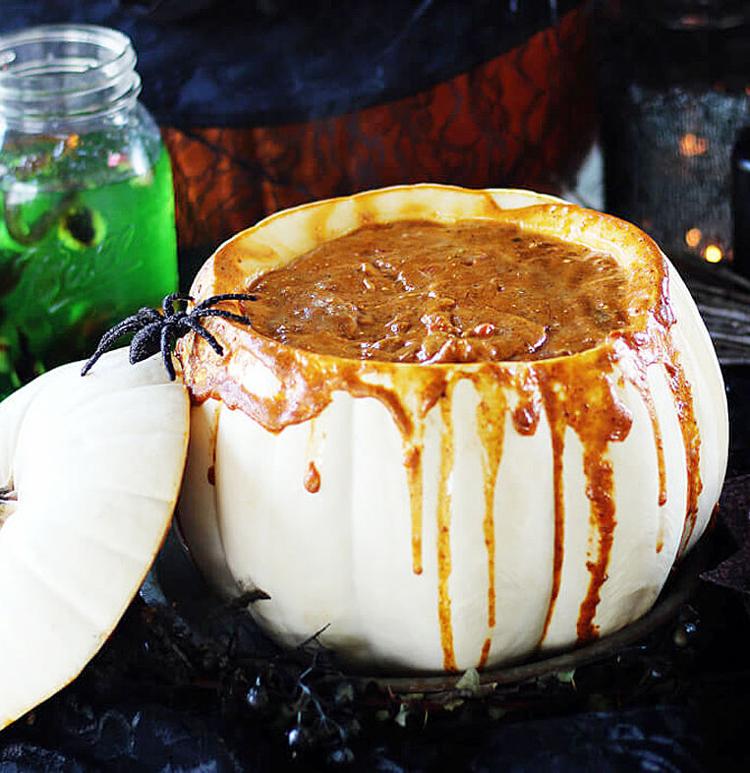 Who is ready to have a little Halloween fun this holiday? Rumor has it that a party doesn't happen without a great dip. (Maybe I started that rumor.)
One thing is for sure, this Halloween Chili Cheese Dip is chip after chip-ful of spicy-cheesy goodness that I cannot resist.  
1 pound pork sausage browned, crumbled, drained
One 20-ounce can diced tomatoes and green chilies, undrained
1.25-ounce package chili seasoning
8 ounces cream cheese, cubed
2 pounds processed cheese block, cubed
1 pumpkin, hollowed into a bowl
Preheat oven to 350°F. Line a baking sheet with aluminum foil and set aside.
Clean the outside of a medium, firm pumpkin. Cut off the top about 1/4 of the way down. Scoop out the inside of pumpkin until dry and hollow.
In a 12-inch skillet, cook sausage on medium heat until brown and crumbled. Drain. Stir in undrained tomatoes and chiles. Add canned chili and chili seasoning packet. Combine well.
Add cubes of cream cheese and processed cheese to the chili mixture. Reduce heat to low. Simmer and stir dip until cheeses have melted and mixture is hot and bubbly.
Place pumpkin on prepared pan. Carefully ladle hot dip into pumpkin. Put pumpkin top back on the filled pumpkin.
Bake 30- 45 minutes until the dip is bubbly and the pumpkin is hot. Transfer to a serving platter and serve warm with chips.