I crave a great salad, don't you? From healthy salads full of fresh greens and veggies to homemade zesty dressings … all the way to hearty pasta salads full of delicious ingredients. Salads are fun, salads are fresh and salads are so full of flavor.
Here are some fabulous salad recipes.
TERI STEPHENS shares delicious homemade recipes from her local food blog, Buy This Cook That (www.buythiscookthat.com), based in Big Sandy
Bursting with flavor, crunch and texture, this gorgeous spring salad features a homemade Grilled Citrus Vinaigrette, healthy vegetables, feta cheese and sweet, candied pecans. 
2 oranges, one sliced, one cut in wedges
2 lemons, one sliced, one cut in wedges
5 cups spring salad greens
8 radishes, thinly sliced, about 1 cup
12 asparagus spears, chopped, about 1 cup
1/4 cup extra-virgin olive oil
2 tablespoons apple cider vinegar
1/4 teaspoon cracked black pepper
1/4 cup feta cheese crumbles
Prepare all vegetables as noted in ingredient listing, set aside.
Heat your grill to 400°F. Make sure it is cleaned and oiled. Place citrus slices and wedges on the grill. Grill each side for 1-2 minutes. All you are looking for is to warm them through and get gorgeous grill marks. Transfer grilled oranges and lemons to a dish, set aside.
To make the vinaigrette, you will use the juice of the grilled citrus wedges. In a small jar, combine warm orange juice, lemon juice, extra-virgin olive oil, honey, cider vinegar, garlic, salt, pepper and a bit of citrus zest. Shake well.
Arrange a large serving platter or bowl with the spring greens and grilled citrus slices.
In a smaller bowl, toss the radishes, asparagus and peas with 1/4 cup of the prepared vinaigrette. Scoop the vegetables and arrange on the bed of salad greens.
Top the salad with pecans and sprinkle with feta cheese. Serve with additional dressing if desired.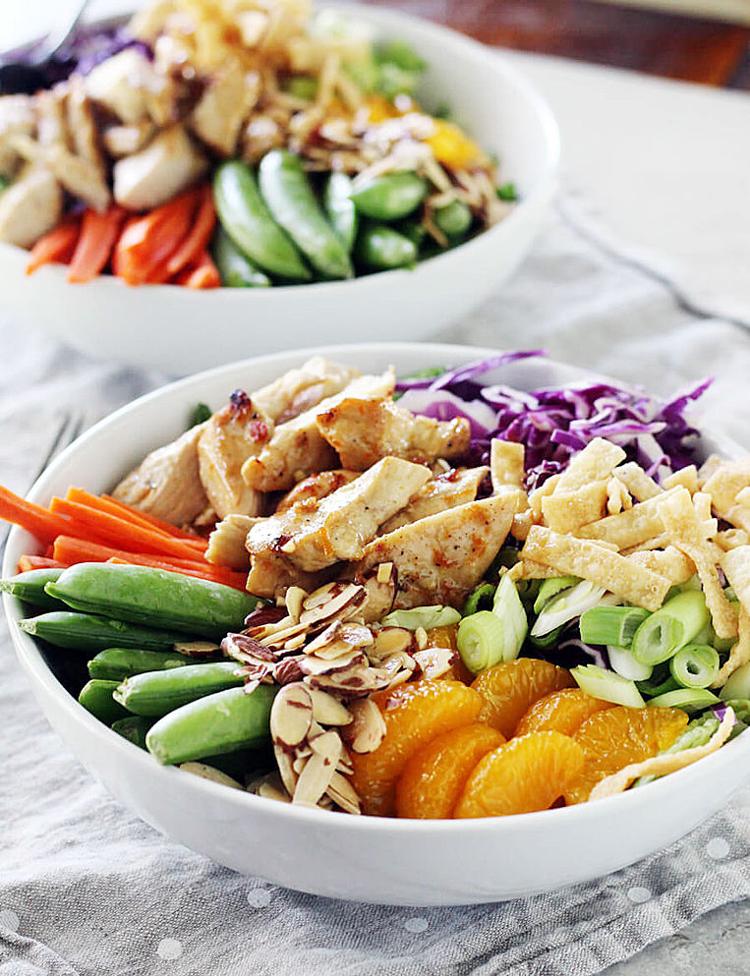 If you love a great salad, this Mandarin Chinese Chicken Salad is a must try. We start with a tender bed of healthy greens. Then, we top it with savory, marinated chicken and loads of colorful-crisp veggies. For crunch and texture, we got a little crazy with the almonds and crispy wonton strips. What pulls it all together is the crave-worthy homemade ginger dressing.
3 chicken breasts, boneless, skinless
1/4 cup low sodium soy sauce
3 tablespoons rice wine vinegar
1 tablespoon ginger, finely grated
3 cloves garlic, finely minced
1/2 tablespoon mandarin orange zest
1/4 cup rice wine vinegar
3 tablespoons low-sodium soy sauce
2 tablespoons mandarin orange juice
1 tablespoon hoisin sauce
2 teaspoons ginger, finely grated
2 cloves garlic, finely minced
1 teaspoon red pepper flakes
12 cups mixed greens romaine, butter lettuce
2 cups mandarin oranges, drained
2 cups red cabbage, shredded
1 carrot, peeled and sliced
Mandarin Chicken: Cut chicken into strips. Place into shallow dish. In small bowl, whisk together corn oil, soy sauce, rice wine vinegar, ginger, garlic, orange zest and pepper. Pour over chicken. Cover and refrigerate at least 1 hour. Preheat oven to 425°F. Arrange a wire rack on top of a rimmed baking pan. Place marinated chicken pieces on wire rack. Bake in center of oven for 15-20 minutes, until juices run clear and the inside is no longer pink. Set aside.
Ginger Dressing: Combine all ingredients in a jar. Seal with a lid, shake 1-2 minutes until ingredients are incorporated and honey is dissolved. Let rest at room temperature until ready to serve.
Salad: Prepare all ingredients as noted above. Assemble salad in four large serving bowls by arranging a layer of greens in bottom of each bowl. Top with the cabbage, green onions, snap peas, carrots and mandarin oranges. Slice the prepared chicken and evenly divide among each bowl. Add the crispy wonton strips and almonds. Serve with the prepared dressing.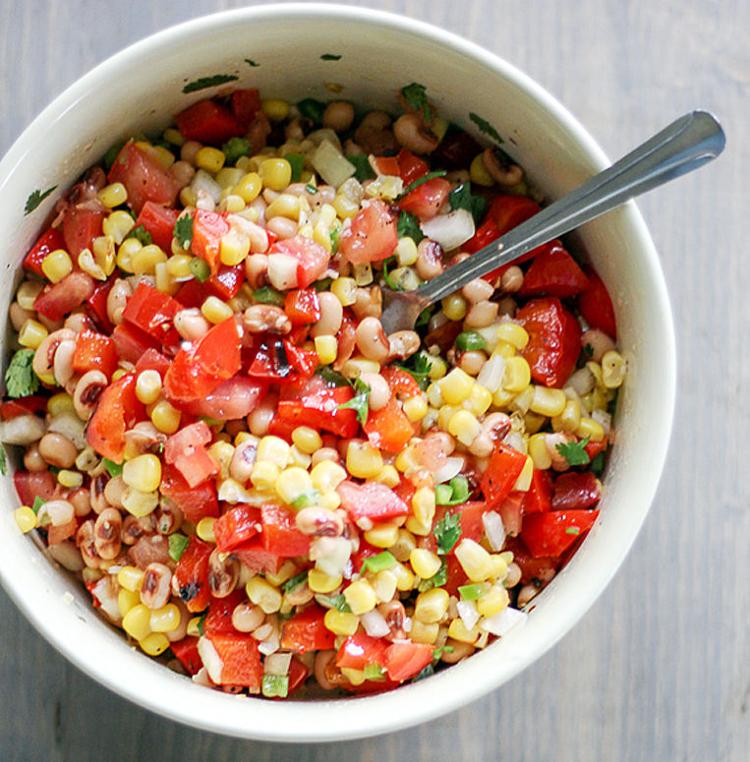 Grilled Red Pepper and Black-eyed Pea Salad
OK, OK, I know what you are thinking. How in the world can you combine grilling with black-eyed peas? This bright and colorful vegetable salad recipe is a perfect side dish that is big on flavor. Sweet grilled red bell peppers, black eyed peas, golden kernel corn with tomatoes, cilantro and more.
15 ounces black eyed peas, drained and rinsed
15 ounces whole kernel corn, drained
1 fresh jalapeño, seeded, finely chopped
6 tablespoons white vinegar
4 tablespoons olive oil divided
2 tablespoons chopped fresh cilantro, more to taste
Heat grill to medium high heat. Cut the bell pepper in half, remove all seeds and membranes. Slice into wedges. Lightly brush the pepper strips with 1 tablespoon oil. Sprinkle with salt and pepper. Place pepper strips on the grill skin side down and close the lid. Cook for 5-7 minutes until the skin is tender and they are slightly charred. Flip them and cook another 5 minutes until they are heated and tender. Remove and let cool.
While peppers are grilling, combine all other ingredients. Once peppers are cool, chop them and add to the black-eyed pea mixture. Salt and pepper to taste and serve at room temperature.
Balsamic Tortellini Pasta Salad
This fast and easy pasta recipe is full of flavor, and lightly dressed with a classic balsamic vinegar and olive oil dressing. Every bite is a mouthful of different flavors. One forkful is a cheese-stuffed tortellini with a tangy tomato and savory salami. The next bite, fresh cucumber, red onion and roasted red pepper. This balsamic tortellini salad is an excellent side dish but hearty enough to make a complete meal.
1-pound package refrigerated cheese tortellini pasta
3/4 cup yellow cherry tomatoes, halved
3/4 cup red cherry tomato halves
1 small cucumber, seeded, halved and sliced
1/4 cup red onion, thinly sliced
1/4 cup roasted red pepper, sliced
1 tablespoon fresh basil chopped
1/2 teaspoon black pepper
Cook tortellini per package directions, drain, rinse with cold water. Add 1 cup of ice cubes to colander, toss and let chill while preparing other ingredients.
In a small bowl, stir together balsamic vinegar, olive oil, garlic and black pepper. Set aside.
In large bowl, combine rest of ingredients. Remove ice pieces from pasta. Shake to remove excess liquid. Add pasta to bowl of vegetables and salami, stir to combine. Pour balsamic vinegar mixture over tortellini salad, toss and stir to coat well. Serve.
Refrigerate any leftovers.