Berries are in season, and that makes me so happy.
Fresh blackberries and tart raspberries are two of my favorite fruits. Whether I eat them alone, with ice cream or use them in my recipes, they add so much flavor.
Here are some "berry good" recipes you should try this summer.
TERI STEPHENS shares delicious homemade recipes from her local food blog, Buy This Cook That (www.buythiscookthat.com), based in Big Sandy.
Blackberry Melon Mozzarella Appetizers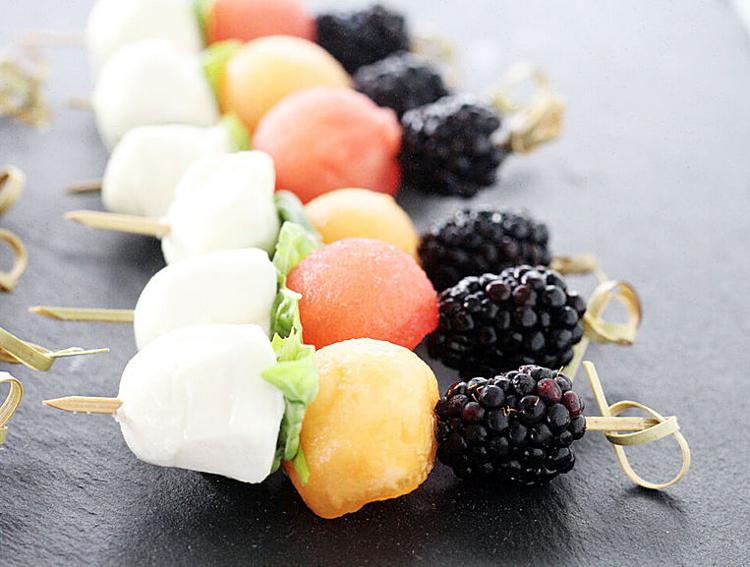 These tasty little bites are party perfect. Great for last-minute appetizers, baby showers, wedding showers … even brunch. Made with bursting berries, sweet melon, whole milk mozzarella and a bit of fresh basil, these are fast and easy.
3/4 cup watermelon balls, about 12 pieces
3/4 cup cantaloupe balls, about 12 pieces
1 cup blackberries, about 24 large
1-1/2 cups mozzarella balls, 24 pieces
Assemble each appetizer skewer by adding a blackberry, a melon ball, a basil leaf and a mozzarella ball. Arrange on a platter and serve immediately or chill before serving.
Recipe is easily doubled or tripled.
Refreshing Peach and Berry Fruit Tea
Everyone around here loves sweet tea, right? Mix it with your favorite summer fruits like juicy peaches, sweet blackberries and tart raspberries for an afternoon of sweet tea sippin'.
3 tablespoons white granulated sugar
Peel two peaches and chop them into small pieces.
Stir peaches with 1 cup water in a small saucepan. Bring to a low boil, cook 5 minutes. Remove and let cool slightly.
In a blender, pulse undrained peaches with sugar and a squeeze of fresh lemon juice. Blend until smooth.
Next, stir together prepared peach nectar with the sweet tea.
Place in the refrigerator until well chilled.
To serve, layer the blackberries, raspberries and ice in tall glasses.
Pour chilled fruit tea over the ice.
Garnish with lemon and serve cold.
Fit and Fresh Raspberry Summer Salad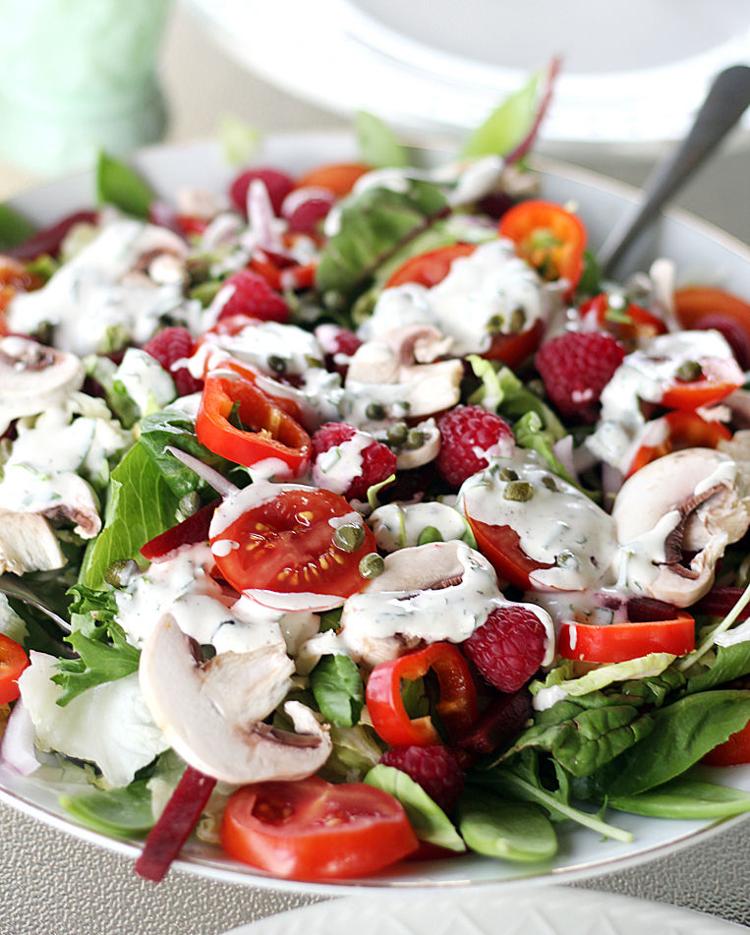 Sometimes, you just need to mix up your boring salad routine. This recipe is loaded with unique flavor combinations including bright, ripe raspberries. The colors in the salad are gorgeous. Don't skip out on our top secret OMGreen Goddess Dressing.
1/2 pint cherry tomatoes, halved
1/2 pint white mushrooms, sliced
1/2 pint ripe raspberries, rinsed and drained
1/2 cup sweet mini peppers, sliced
1/4 cup red onion, sliced
    OMGreen Goddess Dressing:
3 tablespoons fresh chives
2 tablespoons fresh basil
1 tablespoon fresh tarragon
1/2 teaspoon minced garlic
Tear, chop and slice vegetables as preferred. Toss together and serve with dressing.
Chop all the herbs. Combine with all other ingredients in a food processor. Pulse to desired consistency and refrigerate until ready to serve.
Wild Tennessee Blackberry Barbecue Sauce
Tangy, sweet and tart homemade barbecue sauce made with wild Tennessee blackberries. This sauce is great for grilling, dipping and basting. One of my personal favorite recipes. If you have blackberries on the vine, you should give this a try. 
3-1/2 cups fresh wild blackberries, rinsed, drained
2 tablespoons cider vinegar
1 tablespoon yellow prepared mustard
1-1/2 teaspoons chili powder
1/2 teaspoon ground ginger
1/2 teaspoon black pepper
In a medium-sized saucepan combine 2-1/2 cups of blackberries with all remaining ingredients except the water.
Using a handheld blender, blend all ingredients to desired consistency. If you do not have a handheld blender, place the noted ingredients into a standard blender or food processor before cooking.
Heat to medium heat, stirring occasionally. Stir in the water and remaining whole berries. Increase heat to a low boil, stirring constantly. Reduce heat to a simmer, cook 30 minutes or to desired thickness. Stir frequently to prevent sticking.
Remove from heat and cool. Pour into a clean quart jar and seal. Refrigerate. Barbecue sauce will thicken upon standing and refrigeration.