My earliest family memories are around the Thanksgiving table. Platters and bowls and plates piled high with everyone's tried and true recipes. Prepared by grandmothers and cousins and aunts, everyone always knew what to bring, what the menu was. It was like clockwork. Turkey, ham, traditional Southern-style cornbread dressing (not stuffing), potatoes, green beans, cranberry sauce, and of course, all the yummy desserts.
We've got some delicious recipes for you just in time for Thanksgiving. Here's to creating your own family memories and giving thanks.
TERI STEPHENS shares delicious homemade recipes from her local food blog, Buy This Cook That (www.buythiscookthat.com), based in Big Sandy.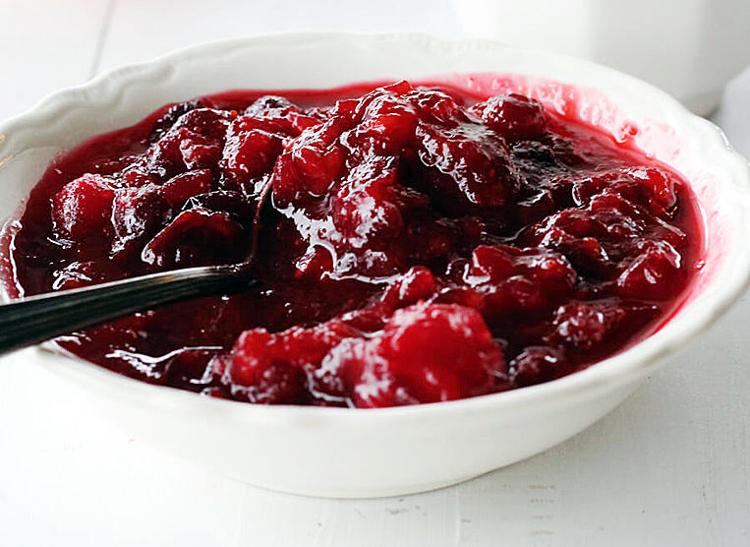 Cinnamon and Orange Cranberry Sauce
I have a confession. I love canned cranberry sauce. I do. The tangy-tart sweetness is one of my favorite things about the Thanksgiving holiday. I also love this easy, delicious spiced whole berry sauce I make myself. Simmered with cinnamon and hints of citrus, it'll be a hit at your holiday table.
2/3 cup white granulated sugar
1/3 cup brown sugar, light or dark
Zest 1 orange. Juice the oranges to make 1 cup of freshly squeezed orange juice.
In a medium saucepan, stir together orange juice, orange zest and both sugars. Add the cinnamon stick and whole cloves. Stir and cook on low heat until sugar has dissolved.
Stir in cranberries. Increase heat to medium-low. Cook and stir for 10 minutes until berries burst. Remove from heat. Take out the cinnamon stick and cloves. Cool and serve. The sauce will thicken as it cools.
Recipe can be made days in advance. Once sauce cools, transfer to airtight container, refrigerate until ready to serve.
Cheesy Ranch Hashbrown Casserole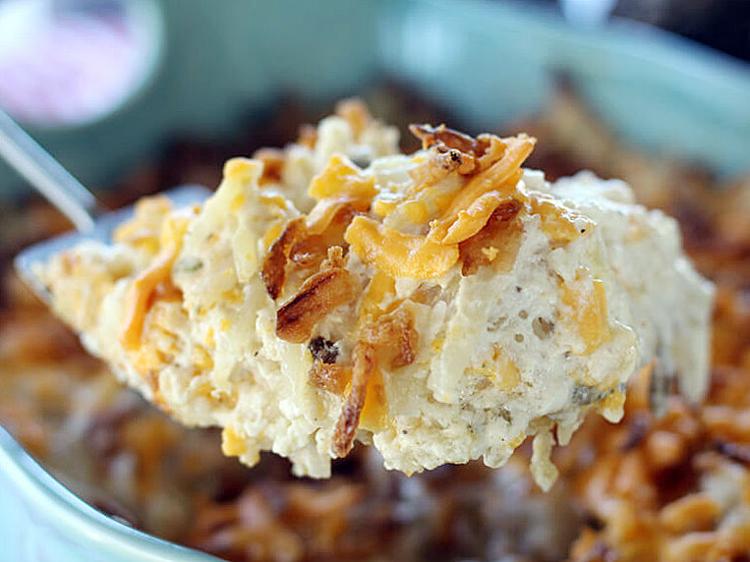 What I love the most about this potato side dish is how easy it is to make. Also, you can double it for a crowd. Also it freezes beautifully. Everyone loves it, and it goes with just about everything. (Great for breakfast, too.)
3 cups shredded cheddar divided
21 ounces cream of mushroom soup (2 regular sized cans)
1-ounce dry ranch seasoning mix
32 ounces frozen hashbrowns
3/4 cup French fried onions
Preheat oven to 350°F. Lightly spray an 8-inch-by-12-inch baking pan with nonstick spray.
In a large bowl, stir together 2-1/2 cups of the shredded cheese, sour cream, soup and ranch mix until well combined. Next, fold in hashbrowns, working from the bottom to make sure the cheese mixture is well incorporated into potatoes.
Transfer hashbrown mixture to prepared baking dish. Pour melted butter evenly over the top. Sprinkle with remaining cheddar cheese and add French fried onions.
Cover loosely with foil and bake for 1 hour. Remove the foil, bake an additional 10 minutes until the top is golden and the cheese is bubbly.
Cider Brined Smoked Turkey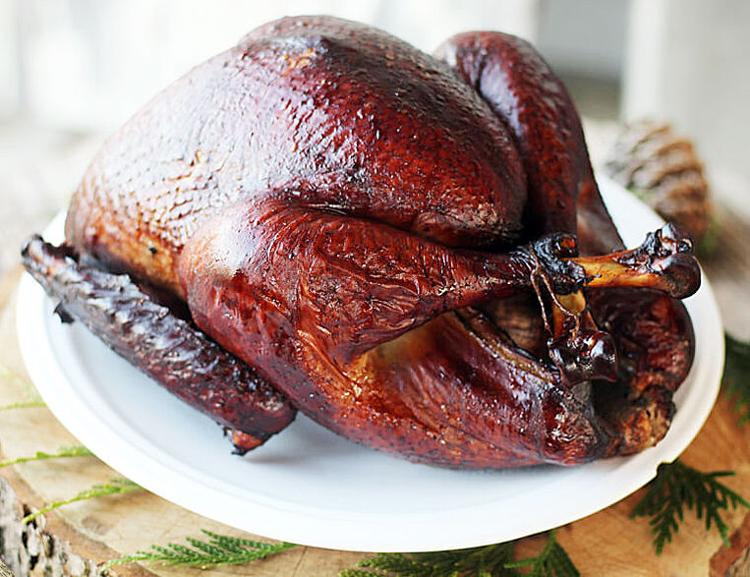 Say goodbye to blah turkey. Bird is the word with this tender, juicy turkey. First, we brine it in an easy apple cider mixture. Then, we smoke it. Keep reading to learn how. (This works for store-bought or wild turkeys.) This recipe is intended for a smaller 12- to 16-pound turkey. However, if your smoker is big enough to hold a larger turkey, go for it. The key is keeping a consistent smoking temperature.
12-pound turkey thawed, giblets removed, rinsed
1 gallon apple cider, sweetened drinking type
1 tablespoon allspice berries and /or whole cloves
1 gallon heavily iced water
1 teaspoon poultry seasoning optional, salt free
Hickory wood chips soaked in water
Before starting this recipe, the turkey must be thawed. I recommend starting the thawing process six days before you eat.
Days 1-4 the turkey will thaw in the fridge. Day 5 you will brine. Day 6 you will smoke the turkey and eat it.
First, pour apple cider into large stock pot. Stir in sea salt, brown sugar, garlic, peppercorns, allspice, clove and bay leaves. Heat brine over medium heat, stir frequently until salt and sugar have dissolved. Next, bring cider brine to a low boil, stir occasionally. Remove brine from heat. Let cool completely, chill. 
In a 5-gallon bucket (or other large container), combine prepared cider brine (above) with 1 gallon of heavily iced water.
Once turkey has thawed, remove giblets and make sure the cavity is empty. Rinse turkey inside and out with cold water. Lower turkey into brine, submerging completely. Position turkey breast side down. About halfway through brining, turn the turkey breast side up. Cover bucket and keep in fridge or very cool area. Brine turkey at least eight hours up to overnight. Remove turkey from the brine. Pat dry.
Halve an onion and lemon, insert halves inside turkey. Cross turkey's legs, secure with kitchen twine to keep cavity closed.
In small bowl, combine melted butter and poultry seasoning. Rub generously on all sides of turkey, coat all surfaces.
Preheat smoker to 250°F. Make sure there's a drip tray in place to catch drippings. Prepare smoke using hickory wood chips that've been soaked in water. This varies based on the type of smoker. (Some smokers have special places to insert chips. Others you place in a pan. Some you simply place in foil.)
Once the smoker has reached temperature, place prepared turkey breast side up in the smoker. Shut the door/lid. Adjust the smoker so it resumes the cooking temperature of 250°F. Add more wood chips about once an hour.
Smoke the turkey at this same temperature until an instant read meat thermometer inserted in thickest part of the turkey reads 165°F. Once turkey has reached temperature, carefully transfer it to a cutting board or platter. Cover with foil, let it rest for 30 minutes before carving.
Sausage and Sage Cornbread Dressing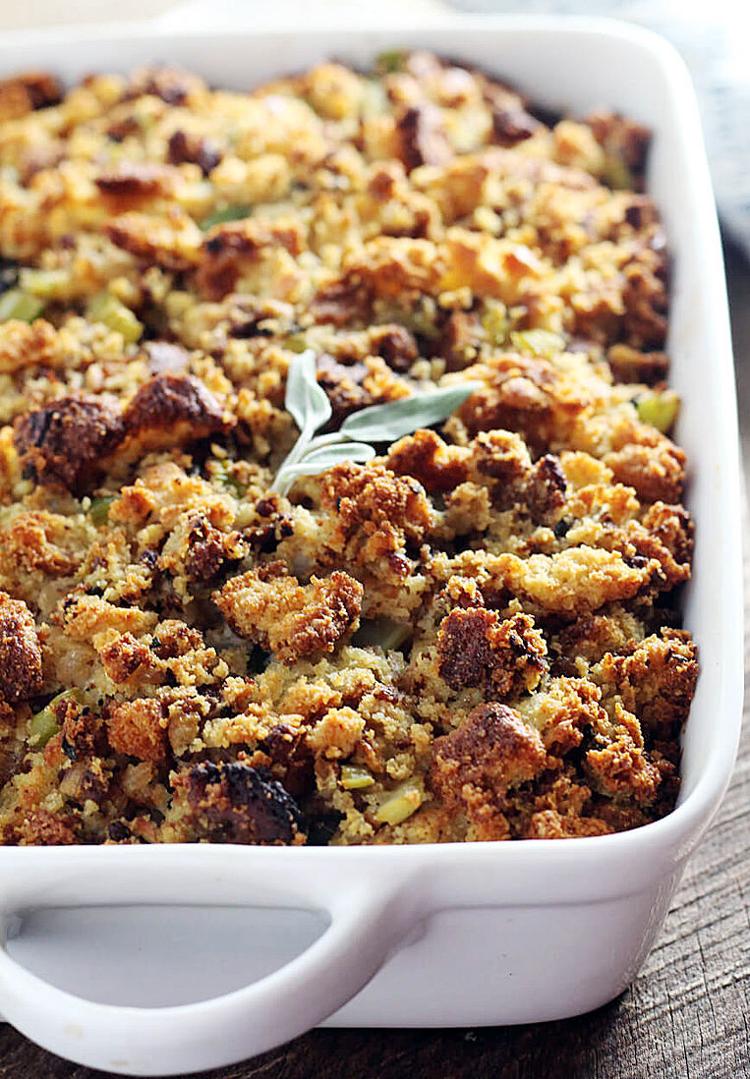 Pretty sure wars have been waged about Thanksgiving dressing vs. Thanksgiving stuffing. Where I'm from, it is always a hearty cornbread dressing that wins. We don't stuff it in anything, y'all. We just serve it along all the other delicious holiday recipes. My favorite part? I haven't decided yet, but I've narrowed it down to either the toasted cubes of buttermilk cornbread or the fresh sage.
7 cups cornbread cubes, about a 10-inch skillet-sized cornbread
1 pound seasoned pork sausage
2 cups chopped celery, 4 large stalks
1/4 cup chopped fresh sage
4 cups low sodium chicken broth, divided
1/2 teaspoon poultry seasoning
1/4 teaspoon black pepper
Preheat oven to 400°F. Arrange cornbread cubes in a single layer on one or more baking sheets. Toast 10-12 minutes until golden brown. Remove from the oven and let cool completely.
Reduce oven to 375°F. Butter an 8-by-12-inch or 9-by-13-inch baking dish and set aside.
In large skillet, melt butter over medium heat. Cook crumbled pork sausage until browned. Stir in chopped celery, onions and sage. Stir and cook 8 minutes until vegetables are softened. Add 1 cup chicken broth, stir and remove from heat.
In a very large bowl, whisk eggs with 2-1/2 cups broth. Whisk in poultry seasoning and pepper. Stir in slightly cooled sausage mixture until combined. Gently fold in toasted cornbread cubes. Pour into baking dish, bake 40 minutes. Remove from oven, pour remaining chicken broth over the top.
The Best Sweet Potato Casserole. Ever.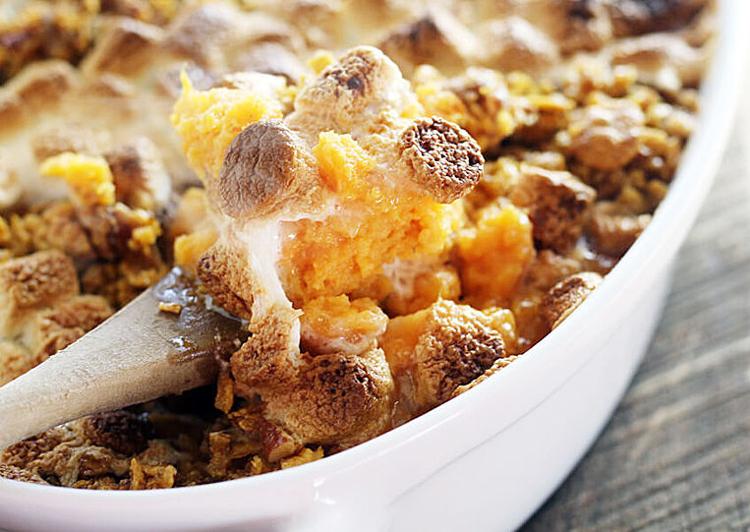 Yes, I'm sure you have heard "best ever" before. No brag. I can say it because the recipe isn't mine. This best sweet potato casserole gets rave reviews every Thanksgiving holiday. This recipe belongs to my mom. Well, my stepmom, who is also my mom. I have a lot of moms. I'm a hot mess, so I need all the help I can get. Especially when it comes to tried and true Thanksgiving classics like the Best Sweet Potato Casserole.
6 medium sweet potatoes roasted, peeled and mashed
1/2 teaspoon orange extract
1 pinch nutmeg, a big pinch
1-1/2 cups crushed corn flakes
1/2 cup salted butter melted, divided
1-1/2 cups mini marshmallows
Sweet Potato Casserole: Preheat oven to 375°F. Butter an 8-by-12-inch baking dish, set aside.
In large bowl, mash together cooked sweet potatoes and butter. Stir in white sugar, milk, vanilla, orange extract and nutmeg. Spread evenly into prepared baking dish.
Toppings: In small bowl, stir together corn flakes, half the butter, brown sugar and chopped pecans. Carefully spoon topping in diagonal stripes on top of casserole, alternating with marshmallows. Drizzle rest of butter over top of marshmallows. Bake uncovered 30 minutes (watch during last few minutes of cooking, cover if needed so marshmallows won't burn.)