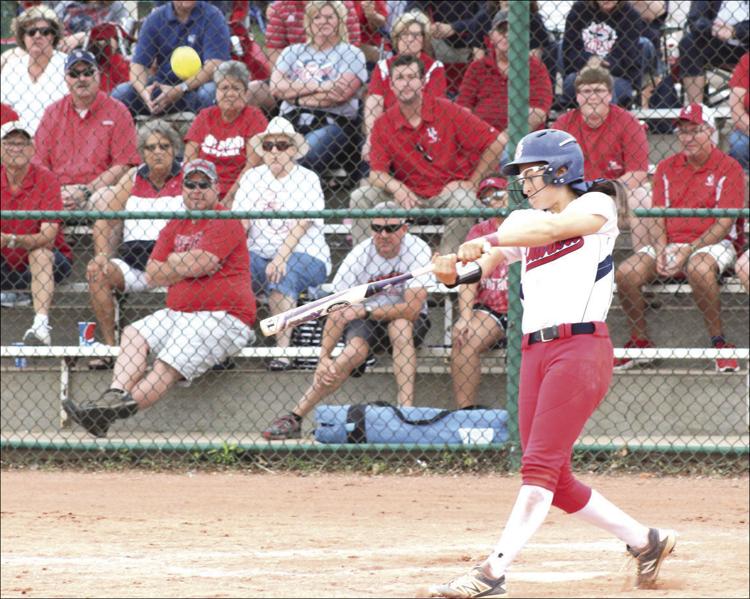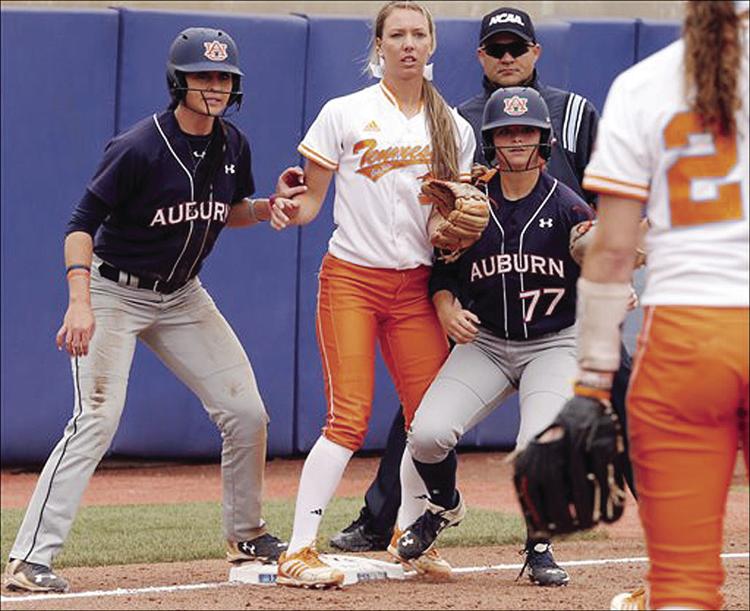 Having a truly dominating pitching staff makes winning softball games easier but the pitchers can't get the job done by themselves.
So today, I'm picking infielders for the All-Tee Pee Talks fantasy softball team made up of Henry County High School players. The Lady Patriots began playing the game fulltime in 1987. I picked a five-player pitching staff of Andrea Elkins, Michelle McWherter, Celie Hudson, Emily Brown and Lauren Elkins on Monday.
I'll do the infield today and try my hand at naming catchers and outfielders in my next column. I might even throw in something about my favorite two Lady Patriots.
Remember I'm using the players' names they were known by when they were playing in high school. So let's take a look at the infield.
FIRST BASE IS POWER POSITION
In the early 1990s, Heather Melton was spending a lot of time playing first base for the Lady Patriots and blasting softballs to the fences at McNeill Park, which was the team's original home. She drilled a then-school record 12 doubles in the 1992 season while smacking five triples that season which is tied for the season high all-time for the Lady Patriots. So she is starting at first base on my team.
I'm going to take the liberty of moving some people from the positions they played regularly to spots that I think they can help my fantasy team. Some of those moves will be to positions that the players actually saw time playing, some may not be.
Katie Scammerhorn (2001-03) could hit, field and throw during her time playing for the Lady Patriots. She played a lot at catcher and some on the left side of the infield but I'm going to use her at first base along with Melton because I have to have her on my team.
Some other strong first basemen for the Lady Patriots include Lori Markum (mid-1990s), Tara King (1999) and Katie Coffield (2016-20).
SECOND BASE HAS SOME SHIFTING
This is another spot that I'm going to shift a player because there are too many names to consider at another spot. Renae Lassiter was a true star in the late 1980s and up until 1990 on the softball diamond for the Lady Patriots.
She led the team in the field at shortstop and at the plate. I'm going to slide her over to second base because she had the versatility to play anywhere and it makes my lineup stronger.
I'll back her up with a more modern slugger in Hannah Gwaltney (2014-17). Gwaltney was a doubles hitting and run scoring machine in her career at HCHS. She ranks third in career doubles with 31 and second in runs scored with 141.
She can even brag about snagging a spot away from her mother, the former Kim Rhodes who saw time at second base in the 1980s. Some other top performers at this spot would include Amy Greer, Shannon Martin (both teammates of Lassiter) and Emily Lowe (2000-02).
SHORTSTOP IS A LOADED POSITION
When you start listing players who started at shortstop for the Lady Patriots, and there are two who were All-State selections who went on to play the position at the University of Tennessee, then you know your position is loaded.
Both Scarlet McSwain (2011-14) and Gracie Osbron (2015-18) have to be starters, so I'm going to move McSwain to third base. She saw some time there occasionally as a Lady Patriot.
Osbron helped the Lady Patriots to consecutive state tournament berths in 2017 and 2018. She is the Lady Patriots' career leader in batting average (.521), hits (240), runs (219), at bats (460), doubles (69) and home runs (33). She is second in runs batted in with 179.
Osbron left Tennessee after a season and was set to play at Jackson State Community College this spring.
I've already moved Scammerhorn, Lassiter and McSwain off this spot, but I still have good selections for a second shortstop for my fantasy team. My idea was to go with Lori Neal (1994-97) here but I decided to shift her to right field where she saw some action early in her career.
So I'm going for a scrappy player who could hit, run a little and hit in Natalie Paschall (2000-02). She also saw some time at second base and in the outfield which will make her a good utility player to have.
Some other strong shortstops who come to mind are Beth Hutson and Megan Jackson (both mid-1990s) along with Cortney Haley (2004-07).
I'm going with McSwain at third base to get her career batting average of .469 in the lineup. She hit a school record .571 during the 2013 season. She also showed good speed with power and had a strong arm in the field. She played all over the field at Tennessee from shortstop to third base to left field and even some at catcher.
She came home to coach the Lady Patriots to a 24-10 record in the 2019 season.
I'm going to back her up with a Lady Patriot who only played one year in the program in Sophie Piskos. She blasted a school record 16 home runs in 2017 before moving to a private school in Chattanooga to finish her high school career. She had a good glove at third base and drove in 50 runs in 2017, which is the fourth-highest single season total for an HCHS player.
Strong consideration at third base was given to Meredith Watkins (1997-2000), Magen Darby (1996-99) and Lindsey Peale (All-District in 2004).
So my starting infield is Heather Melton at first, Renae Lassiter at second, Gracie Osbron at shortstop and Scarlet McSwain at third base. Can't wait to start naming catchers and outfielders.
TOMMY PRIDDY is a Paris native who has been sports editor at The Post-Intelligencer since 1985. He can be reached by email at sports@parispi.net.