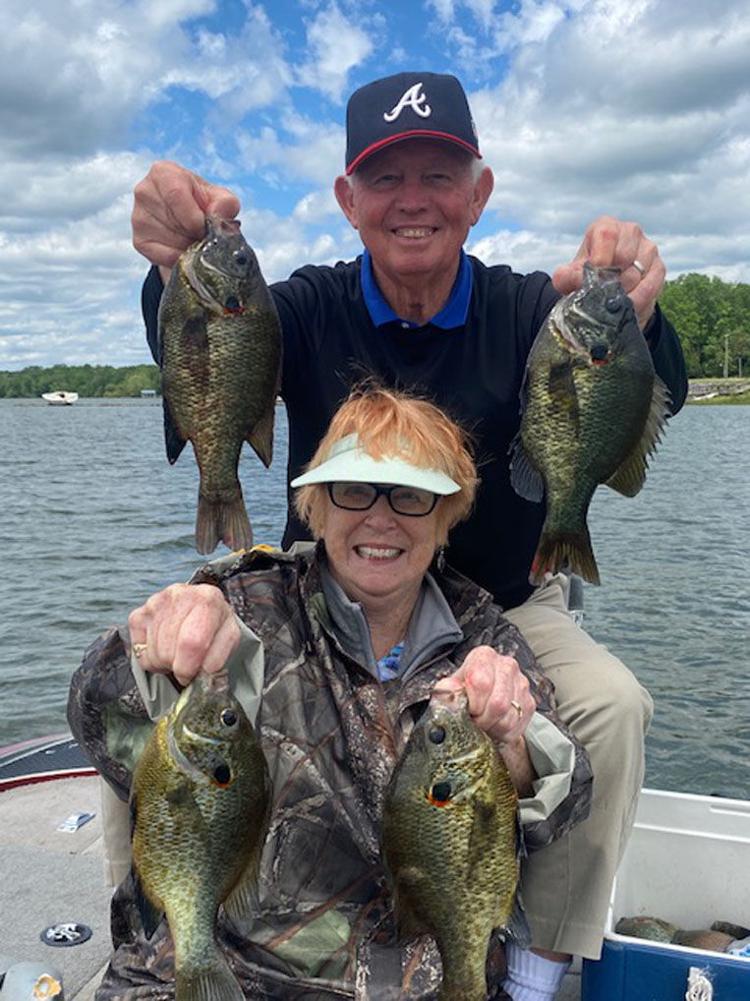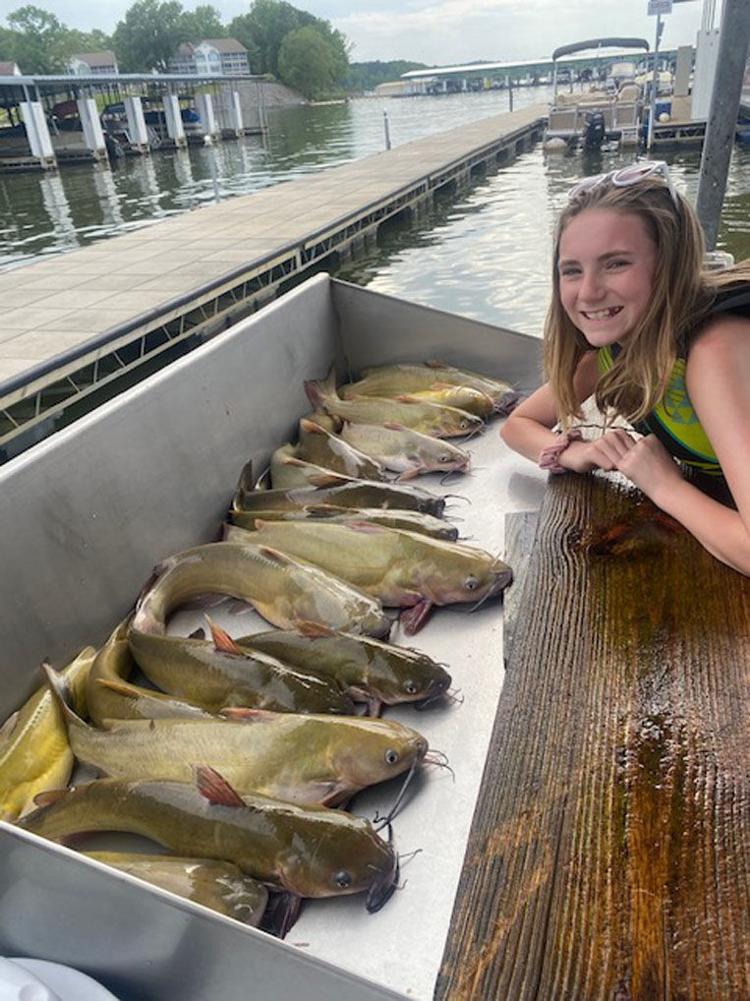 Warmer weather returned last week and it has helped heat up the fishing scene across Kentucky Lake. Decent conditions were long overdue as below normal temperatures had lingered far too long and thrown the spring fishing timetable off balance.
Notably off schedule have been the spawning phases of bluegill and redear (shellcracker) sunfish this year. Anglers have been accustomed to seeing active bedding get underway in early May on both Barkley and Kentucky lakes for decades. Not this year.
It was almost three weeks late but the train arrived last week once a couple of hot sunny days chased away stubborn north winds.
Surface temperatures that had been hiding in the low to mid-60s for weeks quickly heated up and crossed the 70-degree threshold.
Once that happened, it flicked the switch and these popular panfish wasted no time in rapidly rebounding.
Water temps climbed to 72 degrees and higher in some shallow pockets and the fish turned on and blitzed toward shallow grass beds, bushes and gravel mud flats.
Dark male bluegill and handsome olive drab redear showed up with a vengeance and indicated signs that spawning had begun as their aggressive bite displayed their territorial mood to fend off intruders from encroaching into bedding spots.
Anglers using crickets, redworms, nightcrawlers and meal worms chalked some hefty catches the last week or so from areas that had been practically void of fish two weeks ago during the cold weather. Spawning phases are temperature driven and that was clearly evident these last few weeks.
Most of the fish are being caught in 1- to 3-foot depths at the present time. A few redear have been taken off the shoreline in slightly deeper water at times while a few others are holding tight to buck bushes.
With warm weather now dominating the forecast, anglers should enjoy some excellent fishing opportunities the next couple of weeks as the panfish army makes a later than normal spawning surge.
Meanwhile, lake conditions show water color is relatively clear across the reservoir. Surface temperatures are in the 70- to 74-degree range. It could warm up even more as the Memorial Day weekend is expected to be a hot one.
Lake levels have fluctuated slightly the last few days. The start of the week saw elevation a few inches above summer pool with readings in the 359.2-feet range but the lake has fallen slightly. Readings going into the weekend are expected to be 358.8.
Bass and bluegill type anglers are hoping lake levels stay at or a little above summer pool as that inundates additional shoreline habitat such as buck bushes and weedbeds. Just a few inches can make a big difference in their wherabouts. That's why anglers would like to see stability in the elevation or perhaps just a wee bit higher levels
Beating the shorelines with floating fluke style worms, spinnerbaits, topwater jerk baits and shallow running crankbaits have been a multitude of anglers hoping to see some late bedding bass. Several small fish have been taken in the visible stickups but not a lot of big fish according to recent reports.
It appears some of the bigger bass have been holding out on slightly deeper areas that are not far from shore. The bigger fish may have been slow to move back to shorelines as there have been a few cool mornings still in possession of a chill that commanded sweatshirts and long sleeve jackets.
Texas rigged craws and worms have continued to be popular with such lures as Zoom's baby brush hog in the green pumpkin pepper being a popular selection.
Buzzbaits fished over shallow submerged weed beds have accounted for a few fish, too, as have topwater choices such as Heddon's Zara Spook, Smithwick's Devil Horse, Rapalas and Storm's Chug-Bug and Thunderstick just to name a few. Weedless frogs have also been popular lately.
Bass fishermen have been in the same boat as crappie fishermen in terms of trying to figure out the spawning phases this year. Crazy spring weather has disrupted the normal routine as some females were still sporting eggs the last couple of weeks.
Although most boats have been targeting a shallow pattern there are still some that have backed off the banks and attempted to fish Texas or Carolina rigged worms and lizards on secondary humps or sloping points that have deeper water.
Crappie anglers have sort of taken a back seat lately to the bass, bluegill and catfish action. Still, some boats continue to long line and spider rig in main lake areas while others are either casting jigs or vertical fishing jigs and minnows over shallow to midrange depths.
A few scattered crappie have been taken in 8- to 14-foot zones. The fish are in their typical postspawn mode and somewhat suspended in open water at times.
As surface temps continue to warm, watch for more crappie to relate to structure. The bite should improve in another week or two for those fishing stakebeds and brushpiles.
Catfishing has been good. Despite the cool days the last two weeks, catfish have followed their strong urge to approach rocky banks and spawn. Some hefty stringers have been taken this week by both bank fishermen and those fishing from boats but toward the shoreline.
Most anglers are using nightcrawlers but some have tried big minnows and done well at times. Rip-rap areas and rocky bluffs continue to produce. That bite should hold up another week or two.
And so it is that anglers' frowns have turned upside down into smiles with the late arrival of warm spring weather. The overall fishing scene has improved for a wide variety of fishermen who are glad to finally shed coveralls and overcoats in favor of sunscreen and short sleeve shirts.
The upcoming Memorial Day holiday period kicks off the summer boating season so expect a crowd at your local launch ramp. Be careful out there as both recreational boaters and fishermen will be competing for space out on the lake.
Everyone is anxious to get out and about.
STEVE McCADAMS is The Post-Intelligencer's outdoors writer. His email address is stevemc@ charter.net.